Elliott Erwitt
Homeland, USA
past Exhibition
July 7 — August 27, 2005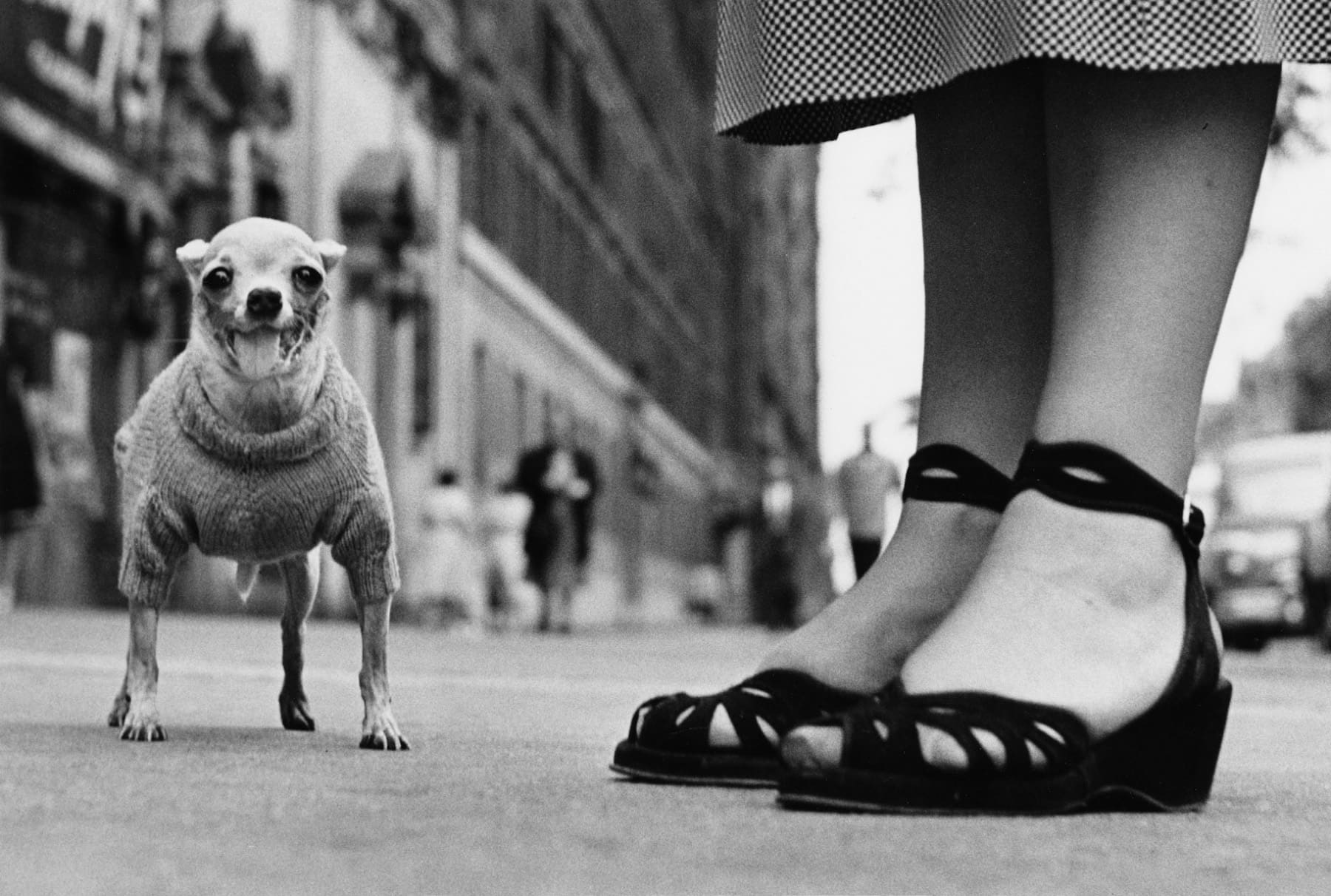 Elliott Erwitt
Homeland, USA
---
past Exhibition
July 7 — August 27, 2005
---
Robert Koch Gallery is pleased to present Homeland, USA, its second solo exhibition of works by renowned photographer Elliott Erwitt. The black & white photographs selected for this exhibition illustrate the diversity of Erwitt's observations of the American scene. Many of the images in Homeland, USA were taken during the McCarthy era and are timely today when anything considered un-American is being scrutinized.
The images in Homeland, USA capture the diverse meanings that "homeland" holds for people in American society. This range can be seen in the photograph of a strict Amish couple standing with a contemporary twosome on the beach in Santa Cruz, California, the image of a proud mother carrying her white son dressed just like his Klansman daddy, or the image of two houses lofted on wheeled trailers in an empty field in rural New York. Known for his humorous presentations of ironic and absurd everyday situations, Erwitt has been described by John Szarkowski as "one of the few photographers whose work is also identified by extraordinary wit." Erwitt's images often use visual puns that introduce social commentary on the human condition as he looks frankly and with a compassionate heart toward people who are frequently in the role of onlookers themselves.
Born in Paris in 1928 to Russian émigrés who fled the Revolution, his first ten years were spent in Milan. Speaking about his emigration to New York in 1939, Erwitt commented, "Thanks to Benito Mussolini, I'm an American." Erwitt came to photography early in life beginning when he moved with his father to Los Angeles in 1941 and began working in a commercial darkroom. He later returned to New York and pursued a photographic career in journalism, fashion and print advertisement.
Erwitt's personal work has been published in numerous monographs, among them Snaps (2001), EE 60/60 (2002), and You & Me (2004). He has been a member of the prestigious Magnum agency since 1953, and has served several terms as president. Elliott Erwitt's photographs have been collected and exhibited at museums around the world including the Museum of Modern Art, New York, the Smithsonian Institution, the Art Institute of Chicago, the Museum of Modern Art in Paris, and the Kunsthaus in Zurich.
Featured Work
Featured Work