Shai Kremer
Concrete Abstract & Notes from the Edges
past Exhibition
April 4 — March 31, 2013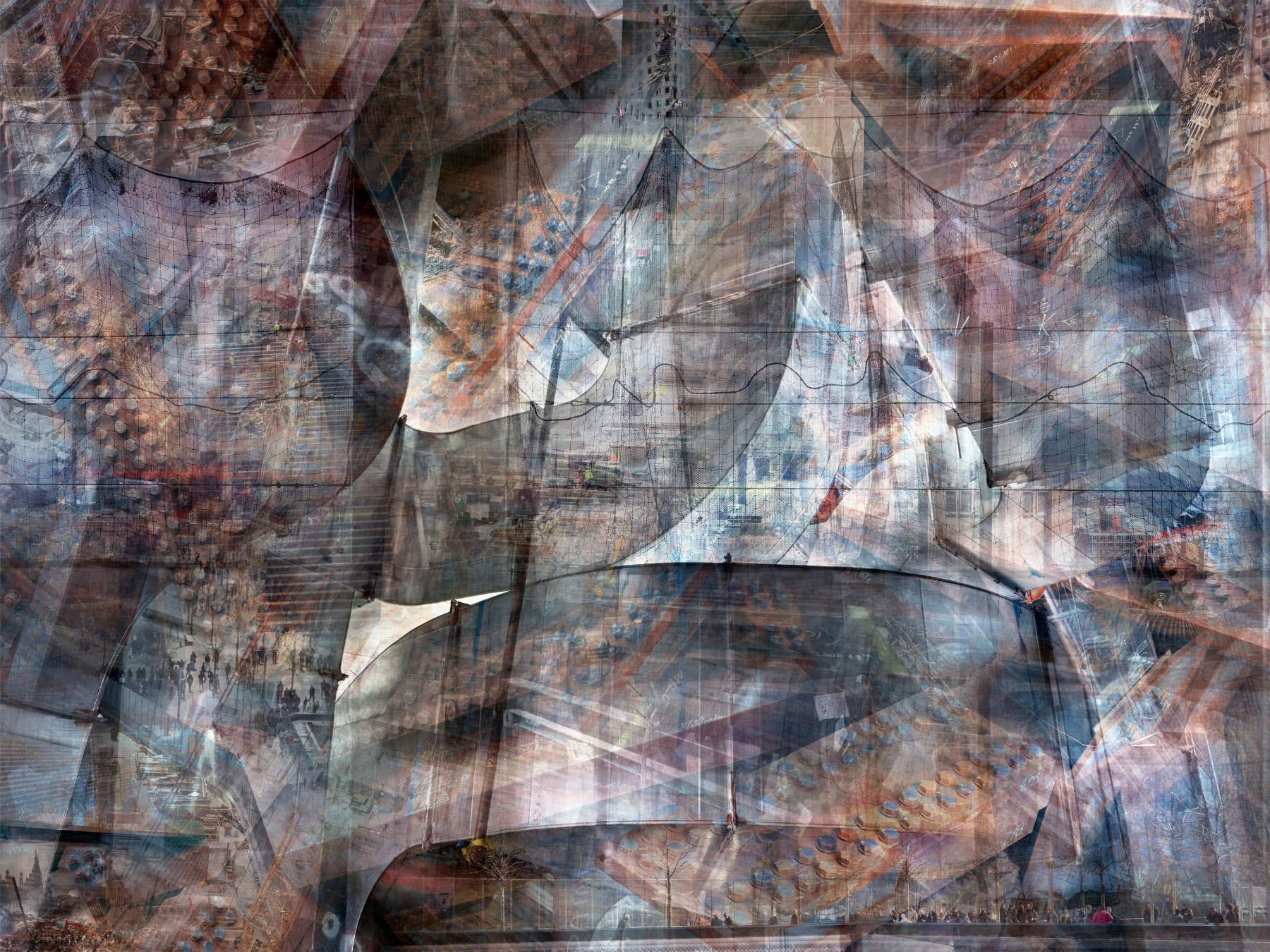 Shai Kremer
Concrete Abstract & Notes from the Edges
---
past Exhibition
April 4 — March 31, 2013
---
The Robert Koch Gallery is pleased to present Shai Kremer: Concrete Abstract & Notes From the Edges, an exhibition of large-scale color photographs that forgo the traditional iconic Manhattan imagery of New York City.
With Concrete Abstract, Kremer offers a decade in the making look at the reconstruction effort at the site of the World Trade Center. These massive photographs are the culmination of overlays of multiple images telling the story of the construction from 2001 to 2012. At first glance, these layered images appear as abstract paintings. Closer inspection unveils the steel girders, rivets, and construction workers rendering a ghostly passage of time. With each layer, we see further beneath the surface, revealing the scars that will remain in legacy coupled with rebirth. This body of work has earned the artist a nomination for the Guggenheim Fellowship.
In Notes From the Edges, Kremer views the city from its edges, emphasizing the dichotomy of destruction and reconstruction. Focusing his lens on the lesser-known landscapes that exist in the periphery; where the urban structure begins to decay and rejoin with nature, Kremer reveals the ramifications of a changing economy.
Kremer was born in Israel and now divides his time between Tel Aviv and New York. His work has been featured in solo and group exhibitions world wide, including Exposed: Voyeurism, Surveillance and the Camera at The San Francisco Museum of Modern Art and the Tate Modern, London in 2010; Looking In, Looking Out: The Window in Art at the Israel Museum in 2010; Reality Check at The Metropolitan Museum of Art, New York in 2008, the 2007 Guangzhou Photo Biennale in Canton, China; Loaded Landscape at the Museum of Contemporary Photography, Chicago, IL in 2007, Engagement-Contemporary Photography at the Israel Art Museum in Jerusalem in 2007, and Disengagement at the Contemporary Art Museum in Tel Aviv, Israel in 2006. His photographs are held in the collections of the Metropolitan Museum of Art; Museum of Contemporary Photography, Chicago, IL; San Francisco Museum of Modern Art, New York; Museum of Fine Arts, Houston; Israel Art Museum, Jerusalem; and Contemporary Art Museum, Tel Aviv, Israel, among others.
Featured Work
Featured Work