Jeff Brouws
American Typologies 1987 - 2003
past Exhibition
November 6 — December 24, 2003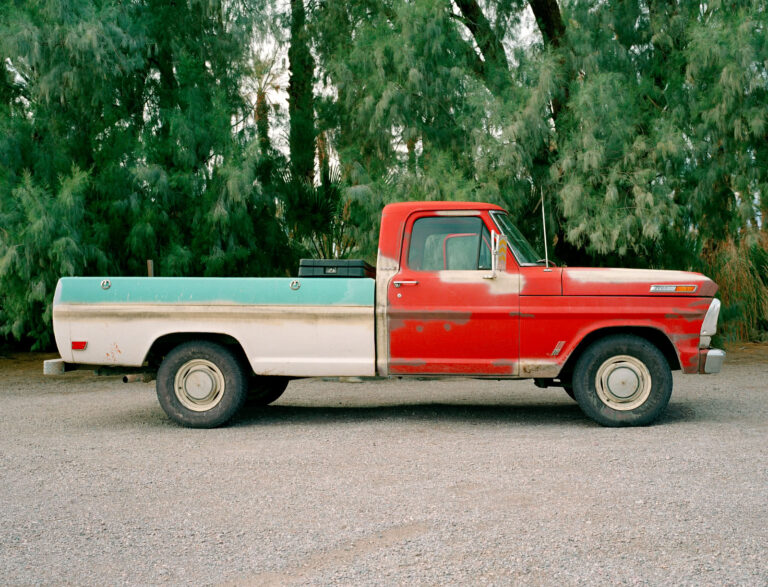 Jeff Brouws
American Typologies 1987 - 2003
---
past Exhibition
November 6 — December 24, 2003
---
For twenty years Jeff Brouws has traveled the country, tirelessly assembling American Typologies as it is seen in the man-made landscape. Equally a visual anthropologist and an artist, the resulting photographs are as alluring for their formal beauty as they are striking for their cultural insight. Roving through remote towns and along the familiar streets of suburbia, Brouws delivers an elegy for a lost sense of place in America.
The photographs included in American Typologies are hung in grids of typologies, and the repeated subjects, including partially painted pick-up trucks, vividly colored houses in suburban Daly City, and the somber shells of abandoned gas stations, harbor a quiet revelation of the eccentricities that arise within conformity. Brouws credits books by Ed Ruscha, such as Twentysix Gasoline Stations, as the inspiration for his typological approach to photography and acknowledges the work of artists involved in the New Topographics movement of the 1970's, such as Robert Adams and Lewis Baltz, as rousing his lasting fascination with the constructed landscape.
Born in San Francisco, Jeff Brouws is a self-taught photographer. His work has been featured in numerous solo and group exhibitions and is included among the collections of The Henry Art Gallery, Seattle; The J. Paul Getty Museum, Los Angeles; The Los Angeles County Museum of Art; and The Whitney Museum of American Art, New York. His published works include Readymades: American Roadside Artifacts (Chronicle Books, 2003); Inside the Live Reptile Tent: The Twilight World of the Carnival Midway (Chronicle Books, 2001); Highway: America's Endless Dream (Stewart, Tabori & Chang, 1997); and Twentysix Abandoned Gasoline Stations (Gas-N-Go Publications, 1992).
"[Jeff Brouws has] a fervent desire to consume and collect, to assemble a more complex view of American culture than any one of us might hope to know on our own. His images catalog a vast landscape of industry, abandonment, loss and fortitude, sifting through what we cast off as our most enduring and revealing history." – Diana Gaston, introduction to Readymades: American Roadside Artifacts, (Chronicle Books, 2003)
Featured Work
Featured Work