Larry Schwarm
Debbie Fleming Caffery
Aftermath
past Exhibition
November 29, 2007 — January 26, 2008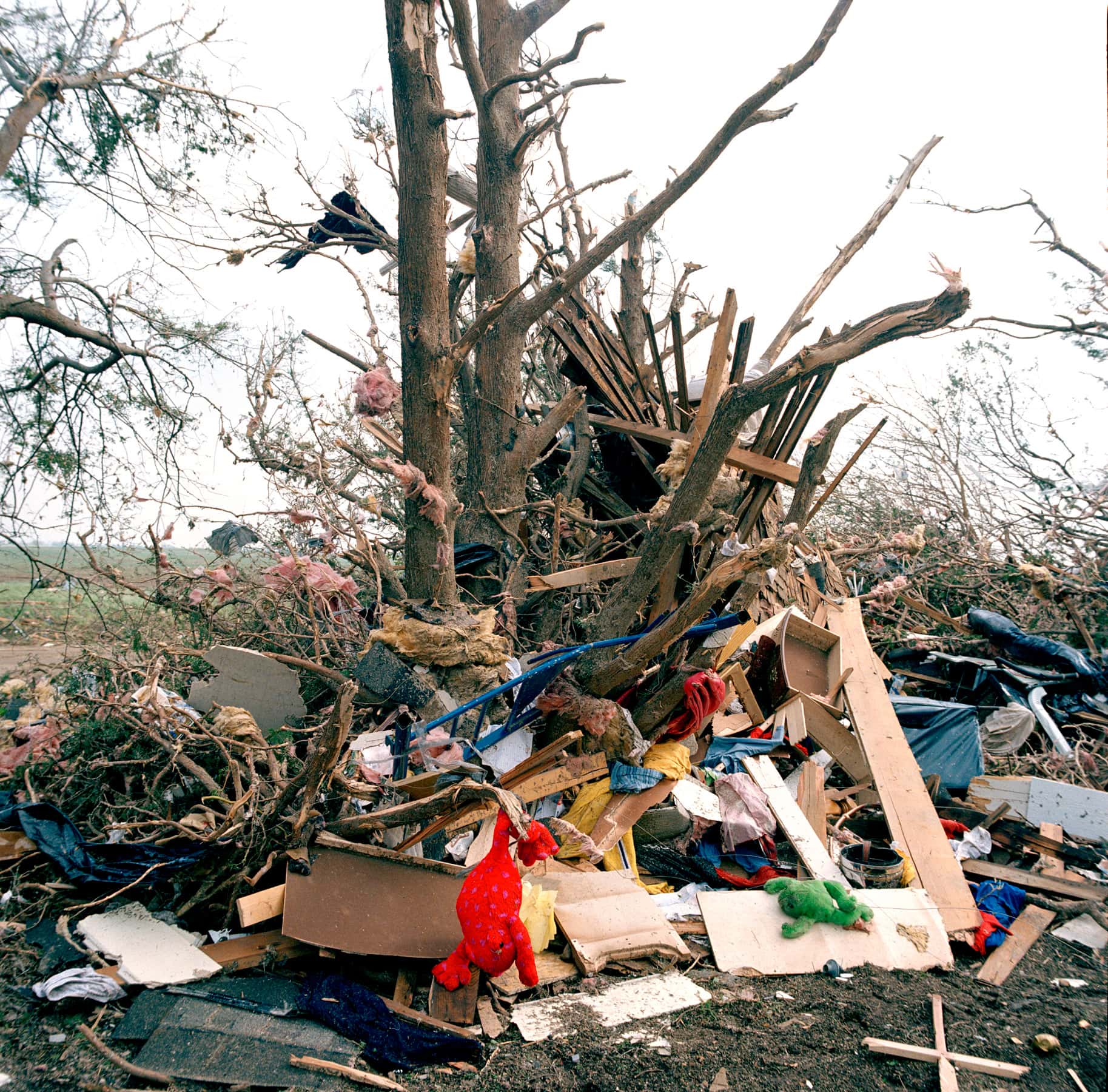 Larry Schwarm
Debbie Fleming Caffery
Aftermath
---
past Exhibition
November 29, 2007 — January 26, 2008
---
The Robert Koch Gallery is pleased to present Aftermath: Debbie Fleming Caffery and Larry Schwarm. The exhibited images capture the destruction of places where the photographers grew up: Debbie Fleming Caffery's somber black and white photographs depict Louisiana in the wake of Hurricanes Katrina and Rita, while Schwarm's large-scale color photographs explore the remains of Greensburg, Kansas, obliterated by a tornado in May 2007. Their personal stories evoke a broader meditation on the indelible effect of loss.
In the last twenty years, extreme weather conditions have increased in frequency and severity, affecting many of us first-hand. Here in California, the southern California wildfires, Loma Prieta earthquake, and Berkeley firestorm mark our recent history. The psychological impact of such catastrophic events affects a broader audience and is intensified through the saturation of media coverage. Going beyond mere documentation, both artists delve into the psychological space created by these natural disasters. The photographs evoke empathy and stir feelings that are unique to each of us, yet connect us through a sense of shared loss. The detritus of broken, displaced, and decontextualized objects symbolize the fragmentation of the psychological fabric of these people's lives, and bring to mind traumatic experiences that extend beyond specific events.
Debbie Fleming Caffery's photographs are included in the collections of major museums around the world such as the Metropolitan Museum of Art, New York, Museum of Fine Arts, Boston, the Smithsonian American Art Museum, Washington, DC, the Whitney Museum of American Art, New York, New Orleans Museum of Art, and the Bibliotheque Nationale, Paris, France. She was a recipient of the Guggenheim Fellowship in 2005 and the Katrina Media Fellowship in 2006. Her monographs include Carry Me Home (Smithsonian, 1990), The Shadows (Twin Palms Press, 2002), and Polly (Twin Palms Press, 2004).
Larry Schwarm was awarded the Center for Documentary Studies / Honickman First Book Prize in 2002, and as a result, Duke University Press published a monograph of his work, On Fire, in 2003. His photographs reside in numerous important institutions including the San Francisco Museum of Modern Art, the Smithsonian American Art Museum, Washington, DC, the Milwaukee Art Museum, the Minneapolis Institute of the Arts, and the Philadelphia Museum of Art.