Eadweard Muybridge
past Exhibition
February 4 — March 27, 2010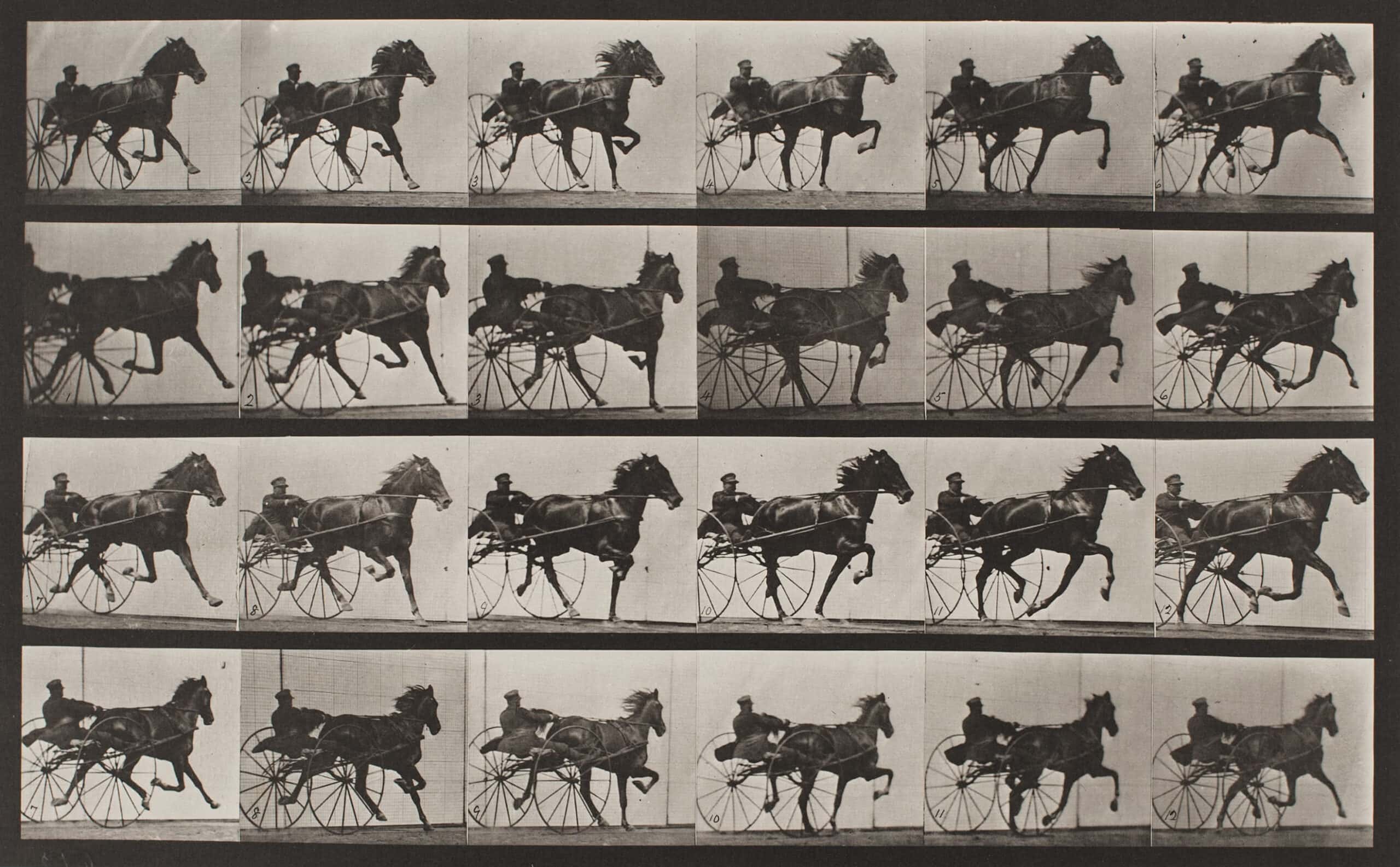 Eadweard Muybridge
---
past Exhibition
February 4 — March 27, 2010
---
On view at the Robert Koch Gallery is Eadweard Muybridge: Motion Studies, a selection from the famous series published in 1887 under the title, Animal Locomotion. This exhibition presents studies featuring both human and animal locomotion in Muybridge's characteristic grid of images separated by split seconds.
Muybridge is widely recognized as a pivotal figure in the development of motion pictures, as well as a significant influence on the arts and sciences, inspiring countless artists and inventors including Sol LeWitt, Joseph Cornell, Marcel Duchamp, and Thomas Edison. Although Muybridge intended his photographs to be used as scientific documents and visual aides for artists, his studies of motion are also appreciated as aesthetic works, and have a surprisingly modern sensibility. In some ways, Muybridge's motion studies are analogous to the work of contemporary photographers who use sequenced imagery. With both Muybridge's photographs and their contemporary counterparts, the composite of the multiple images when seen as a single visual entity is very different and much more interesting than the individual parts.

Eadweard Muybridge began his motion studies in 1872 when railroad tycoon and ex-California governor Leland Stanford hired Muybridge to settle a wager based on a horse's gait. Rumored to be a $25,000 bet, Muybridge's photographs of Stanford's horse, Sallie Gardner, turned out in Stanford's favor that indeed all four hooves are lifted from the ground at the same time when a horse runs.
From this original commission, Muybridge made significant strides in the field of motion photography, creating and patenting an automatic electronic device to trip camera shutters. Muybridge went on to photograph thousands of motions studies of both humans and animals primarily at the University of Pennsylvania and at the Philadelphia Zoo.
Eadweard Muybridge (1830 – 1904) was born in England in 1830. Emigrating to the United States when he was twenty-two, Muybridge settled in California where he began his career photographing Western landscapes including a government commission to photograph the Pacific Coast, and most notably a series of large-format photographs of Yosemite which earned Muybridge world renown. Muybridge's publications include Animal Locomotion (1887), Descriptive Zoopraxography (1893), Animals in Motion (1899), and The Human Figure in Motion (1901). Muybridge died in England in 1904.
Featured Work
Featured Work