David Parker
past Exhibition
September 7 — October 28, 2006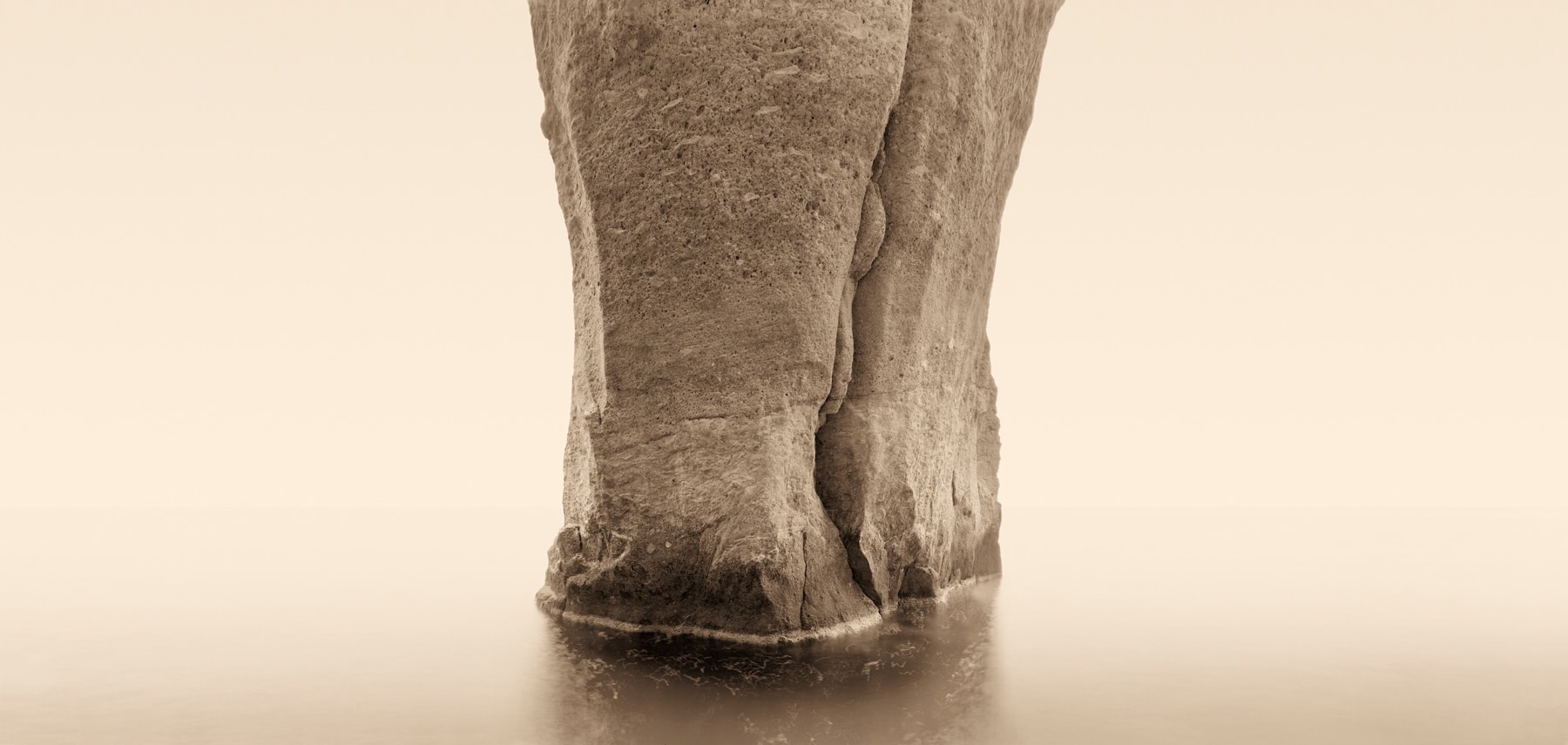 David Parker
---
past Exhibition
September 7 — October 28, 2006
---
Robert Koch Gallery is pleased to present its third exhibition of David Parker large-scale toned gelatin silver prints, coinciding with the publication of Parker's new monograph, Sirens, by Steidl. The mysterious, minimalist seascapes in the exhibition build on the aesthetic Parker established in his earlier works while engaging the viewer more playfully in the search for meaning. With these new images, Parker takes his Sirens series to new heights and brings the project to a compelling close.
David Parker's new photographs reflect a deeper exploration of our tendency to glimpse meaningful forms hidden in the ordinary elements of our surroundings. In this way, Parker's Sirens act as a mirror of the human mind, often in humorous or unexpected ways. The solitary rock forms that rise over vast, calm seas in these images are discernibly geological masses, but Parker does not reveal specific locations in the titles of these works, nor does he include familiar landmarks within his visual frame. As such, the photographs leave behind geographic context and encourage feats of imagination, enticing us to pour over the surfaces and the shapes of the rocks to search for recognizable figures or human faces. The viewer may find that a timeworn arch in one photograph resembles a person in a reclined pose or the bowed neck of a swan. The craggy obelisk in another image may lead one to envision the furrowed brow of someone deep in thought. These rock forms function as archetypes or delphic symbols through which we refer to the landscape of the psyche.
In the introduction to Parker's new monograph, critic Marina Warner writes that Parker's series of "becalmed rocks thus belongs in the enigmatic tradition of the sirens: illusions spring from these intense stones and seem to hint at messages." The Sirens series takes its name from the creatures of Greek mythology that lured sailors to their demise with enchanting songs, and these photographs stand as an invitation to listen for the sirens' call. Whether the song awaits the viewer in the misty realms depicted in Parker's images or is instead contained within the mind of each individual, its promise hints at the possibility of finding meaning in a universe whose secrets often lie out of reach.
David Parker creates the distinctive spatial and temporal qualities of his images through complex technical procedures while shooting and in the darkroom. He tones his prints by hand in sepia and selenium, imbuing them with a degree of warmth and heightening their seductive appearance. Initially trained as an engineer, Parker turned to photography in the early 1980s. His photographs have been exhibited in the United States and Europe and have been the subject of three monographs, including the award-winning The Phenomenal World (Steidl Edition 7L, 2001). Parker currently resides in England.
Featured Work
Featured Work