Wayne Levin
Through a Liquid Mirror
past Exhibition
May 6 — June 26, 2004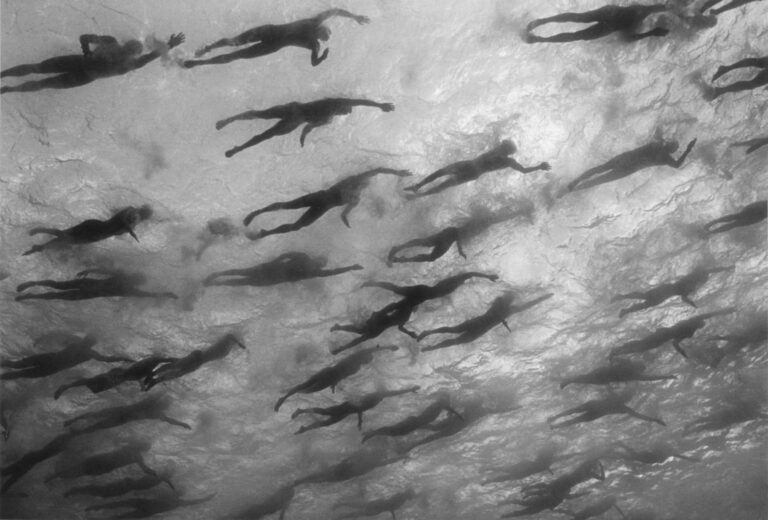 Wayne Levin
Through a Liquid Mirror
---
past Exhibition
May 6 — June 26, 2004
---
Robert Koch Gallery is pleased to present Through a Liquid Mirror, an exhibition of photographs by Wayne Levin, one of the world's most esteemed underwater photographers.
Wayne Levin's photographs draw the viewer into submerged worlds both mesmerizing and mysterious, from the depths of the Pacific Ocean to the churning surf of the Hawaiian coast. Many of Levin's images, photographed from just below the surface of the water, offer a dynamic new perspective on the familiar, such as his photographs of bodysurfers and of swimmers in Hawaii's Ironman Triathalon. Yet Levin also finds his subjects in the dark realms of the ocean where whales and sharks drift among wraithlike beams of light and vast schools of fish gather into forms of startling geometry. Whereas underwater photography often relies on vivid color and can be prone to romanticism and sentimentality, Levin shoots only in black and white and his photographs draw their strength from an elegant simplicity and intimacy.
Noted photographer Linda Conner writes of Levin's work, "These subtle black and white photographs illuminate an entire world; its space, its inhabitants, its weight, and its visitors. He offers us a landscape of a different order from ours; we are privileged to enter into it. We encounter states of wonder, fear and exhilaration… a profound sense of the sublime."
Levin earned his B.F.A. from the San Francisco Art Institute and his M.F.A. from Pratt Institute in New York. He currently lives in Hawaii. His monograph, Through a Liquid Mirror (Honolulu: Editions Limited, 1998), received the Hawaii Book Publishers Association's award for Book of the Year (1998). Levin has also received fellowships from the National Endowment for the Arts (1984) and the Ohio Arts Council (1989). His photographs are widely exhibited and are included in major public collections including the Museum of Modern Art, New York and the Bishop Museum, Honolulu.