Nathan Baker
People at Work
past Exhibition
March 3 — April 30, 2005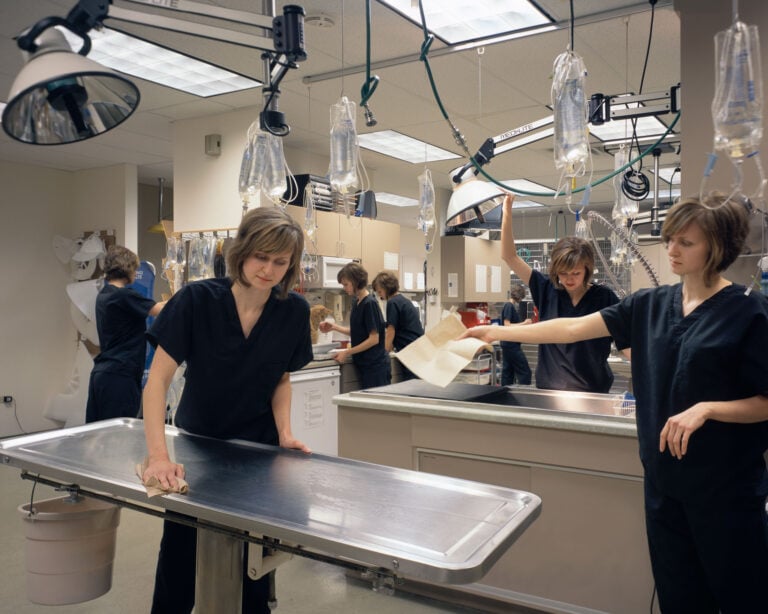 Nathan Baker
People at Work
---
past Exhibition
March 3 — April 30, 2005
---
The Robert Koch Gallery is pleased to present People at Work, an exhibition of large-scale color photographs by Nathan Baker. Baker constructs minutely detailed tableaux that condense many of the activities associated with any given occupation into one seamless image. The photographs amplify the contours of the American worker's routine and describe the complex role of the individual in contemporary society.
Initially, the images appear to be composed of a variety of workers, dressed uniformly; the many people in each image are in fact the same person. Using anywhere from ten to forty sheets of 4 x 5 in. film, Baker synthesizes these diverse actions into a dynamic composition that reveals the variety involved in everyday duties. Baker's humor emerges in the particular way that he constructs the relationships between the figures: a veterinarian hands herself a memo, a machinist supervises himself at work. The strange solipsism of individuals interacting with themselves proves haunting and memorable.
These commercial landscapes are distinctly American. From the wheel design room in a manufacturing plant to the engine room of a casino boat, Baker explores common industry, frankly fascinated with the rhythm of the working class. This is not the world of international stock exchanges, sporting championships and slick commerce. Instead, the artist describes the setting of the housepainter, the construction worker, and the repairman. Baker invests these environments with sincere esteem, enhancing their cultural significance and visual impact with his gestural aesthetic.
Baker is inspired in part by the early twentieth century time-motion studies of Frank Gilbreth. Concerned with the relationship between effort and productivity, Gilbreth broke down work into fundamental elements in order to improve industrial efficiency. He made multiple exposures depicting the patterns of workers interacting with machines. Baker's images communicate a similar sense of awe at the diversity of feats performed by an individual. The artist contemplates the nature of contemporary labor and the worker's honorable place within that construct.
Baker earned his B.F.A in photography at Columbia College in Chicago. He has won multiple awards for his photographs, including first place at the Adobe Design Achievement Awards in 2004, the winners of which were featured in an exhibition at Yerba Buena Center for the Arts, San Francisco. He also won first place in the Union League of Chicago's Annual Arts Competition in 2004. Baker was the recipient of a Kodak Professional Scholarship in 2003 and the Albert P. Weismann Scholarship in 2002.