Michael Eastman
Havana
past Exhibition
May 10 — August 28, 2021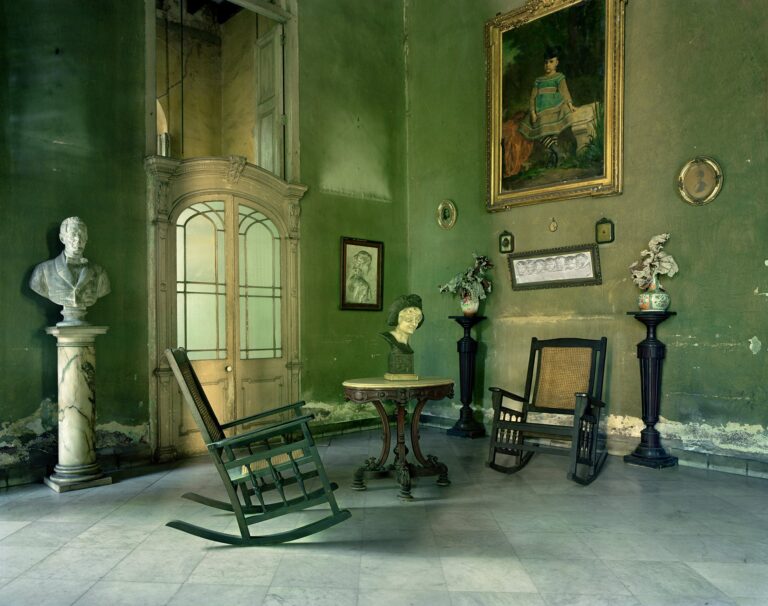 Michael Eastman
Havana
---
past Exhibition
May 10 — August 28, 2021
---
The Robert Koch Gallery is pleased to present Micheal Eastman: Havana, an exhibition of photographs taken by the artist in Havana, Cuba between 1999-2014. Cuba, a place known for it's unique mix of cultural and artistic influences along with it's diverse architecture, repeatedly drew Eastman to work there throughout the years. Eastman's lavish monumental photographs of the opulent colonial and Art Deco architecture of Havana impart on the viewer magnificently decorated rooms bathed in romantic Baroque light. Seemingly caught in the rift of time and bearing the resulting mark making, these decadent and warm inviting spaces seemingly take on the role of storyteller, serving witness to a time now passed.
For five decades, Michael Eastman has explored the interiors and facades in diverse geographical locations producing photographs unified by their visual precision, monumentality, and painterly use of color. Eastman's affection for the vernacular is reflected in the resultant photographs, rich in narrative and embodied with an intrinsic sense of place and time.
Born in 1947 in St. Louis, Missouri, Eastman studied at the University of Wisconsin. He is the recipient of the National Endowment for the Arts Grant, National Addy Award, and a Paris Photo BMW Finalist Prize. His images have appeared in Time, Life, Art in America, New York Times, and American Photographer. Eastman's work is in numerous private and public collections, including The Metropolitan Museum of Art, NY; San Francisco Museum of Modern Art, CA; Art Institute of Chicago, IL; Los Angeles County Museum of Art, CA; High Museum of Art, Atlanta, GA; Saint Louis Art Museum, MO; and the International Center of Photography, NY. His publications include Havana (Prestel, 2011), Vanishing America (Rizzoli, 2008), and Horses (Knopf, 2003).
Featured Work
Featured Work