Francis Frith
Egypt, Sinai, and Jerusalem: A Series of Twenty Photographic Views
past Exhibition
November 4 — December 24, 2004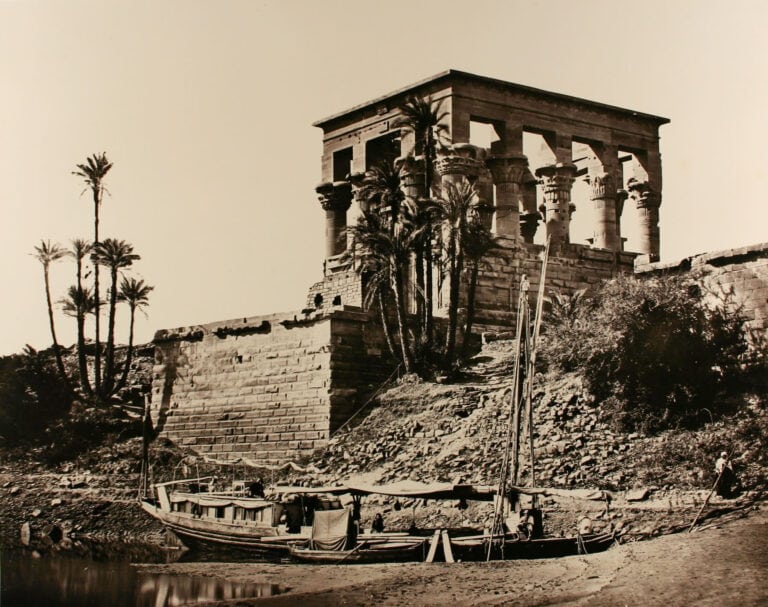 Francis Frith
Egypt, Sinai, and Jerusalem: A Series of Twenty Photographic Views
---
past Exhibition
November 4 — December 24, 2004
---
Robert Koch Gallery is pleased to present Egypt, Sinai, and Jerusalem: A Series of Twenty Photographic Views, an exhibition of works by Francis Frith, one of the leading landscape photographers of the 19th century. Drawn from Frith's travels between 1856 and 1860, the twenty mammoth-plate prints on view in A Series of Twenty Photographic Views were originally presented as a large-scale portfolio and are considered to be the apex of the photographer's work. This exhibition provides an opportunity to view the complete portfolio of Frith's monumental photographic essay on the Middle East. It is rare to be able to view prints in such an extraordinary state of preservation as this particular album.
Francis Frith's photographs of Egypt, Sinai and Jerusalem depict ruins, landscapes, the streets of Cairo, and legendary sites such as the Great Sphinx and the Pyramids of Giza. While Frith's works may have been conceived as realistic records of scenic attractions, or as straightforward topography, the images assert a strong sense of abstraction with attention to composition, form and texture. In these images Frith balances the imposing stature of natural and constructed landforms with delicate details, as seen in temple facades, timeworn statues, and human figures in the landscape.
Frith's photographs were hugely popular in his day. Born a Quaker, he infused a missionary sense of purpose to bringing Victorian armchair travelers a sense of the exotic milieus of the East and went to considerable lengths to bring these prints to his viewers. Developing glass plate negatives using the wet-collodion process in the desert conditions of Egypt presented Frith with numerous technical and physical challenges: to coat and develop his negatives, Frith endured the suffocating heat of a dark and airtight tent, where temperatures reached 120 degrees and the collodion coating would sometimes boil when applied to the glass plate. As enlargements were not yet a reality in the mid-19th century, photographers made contact prints, which could be only as large the negative. Due to the difficulty of using immense glass negatives, few practitioners at the time photographed in the mammoth-plate size, and surviving large prints in good condition from this era are quite rare.
Frith was an active entrepreneur as well as a practitioner of photography. He founded the first photographic publishing firm in England, F. Frith & Company, which produced and distributed photographs and stereographs for albums and book illustrations, as well as expensive special editions and individual prints.
Featured Work
Featured Work