Chris Dorley-Brown
The Corners
past Exhibition
January 5 — March 2, 2019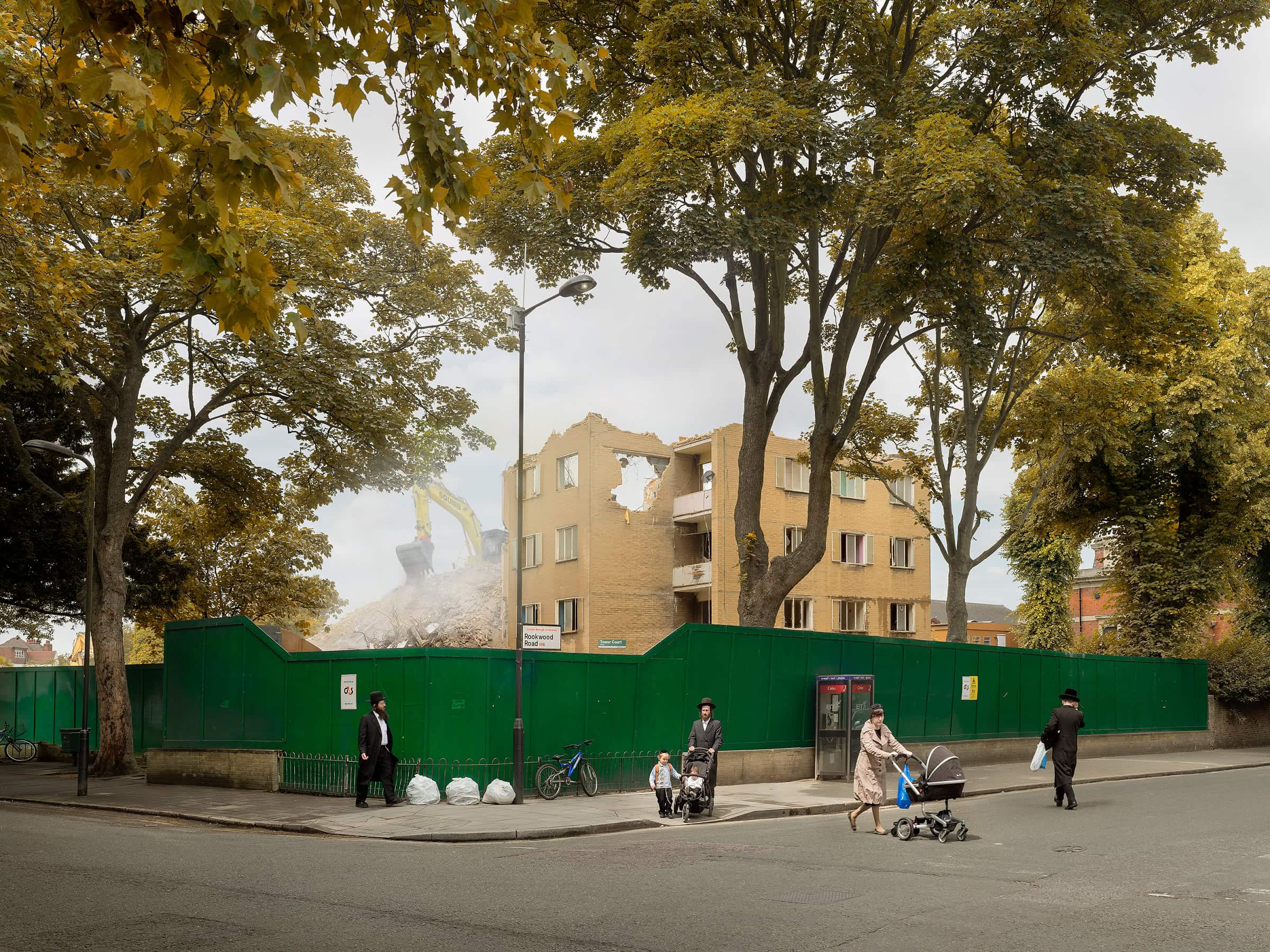 Chris Dorley-Brown
The Corners
---
past Exhibition
January 5 — March 2, 2019
---
Robert Koch Gallery presents The Corners, a series of photographs by British photographer Chris Dorley-Brown, whose surreal and off-kilter imagery of his hometown streets of the London Borough of Hackney is comprised of many separate relatively narrow captures taken from the same vantage point over an extended period, sometimes up to an hour at a time. The artist sets up the camera in one location, and tilts and pans around the cityscape to capture the activity on the street, along with it's unsuspecting protagonists. Once he has returned to the studio, he overlays the resulting moments into one central composition or alternate reality, which initially presents the viewer with a sense of familiarity, but dually takes on a dreamlike tone.
Largely self-taught, Dorley-Brown's cultural education was formed in east London in the late seventies. In 1984, Dorley-Brown began creating a photographic archive of the streets of Hackney where he lived and worked, and which has been an ongoing impetus and the primary focus of his work. Recent publications include photography books The Longest Way Round (Overlapse, 2015), Drivers in the 1980s (Hoxton Mini-Press, 2015), The Corners (Hoxton Mini-Press, 2018) and The East End in Colour: The Photography of David Granick (Hoxton Mini-Press, 2018).
Accompanying exhibition: STREET LIFE
January 5 – March 2, 2019
Accompanying Chris Dorley-Brown's exhibition is Street Life, a thematic exhibition of 19th and 20th century artists who captured life on the streets. The exhibition features works by Eugène Atget, Károly Danassy, Victor Guidalevitch, Karel Hájek, Tibor Honty, André Kertész, Imre Kinszki, Josef Koudelka, Jan Lauschmann, Helen Levitt, Charles Marvillle, Josef Sudek, and Max Yavno.
Featured Work
Featured Work